On replacing my MacBook Air M1 with a Thinkpad T480
I recently replaced my 2020 MacBook Air M1 with 8GB of RAM with a Lenovo Thinkpad T480.
It's not as insane of a downgrade as it sounds.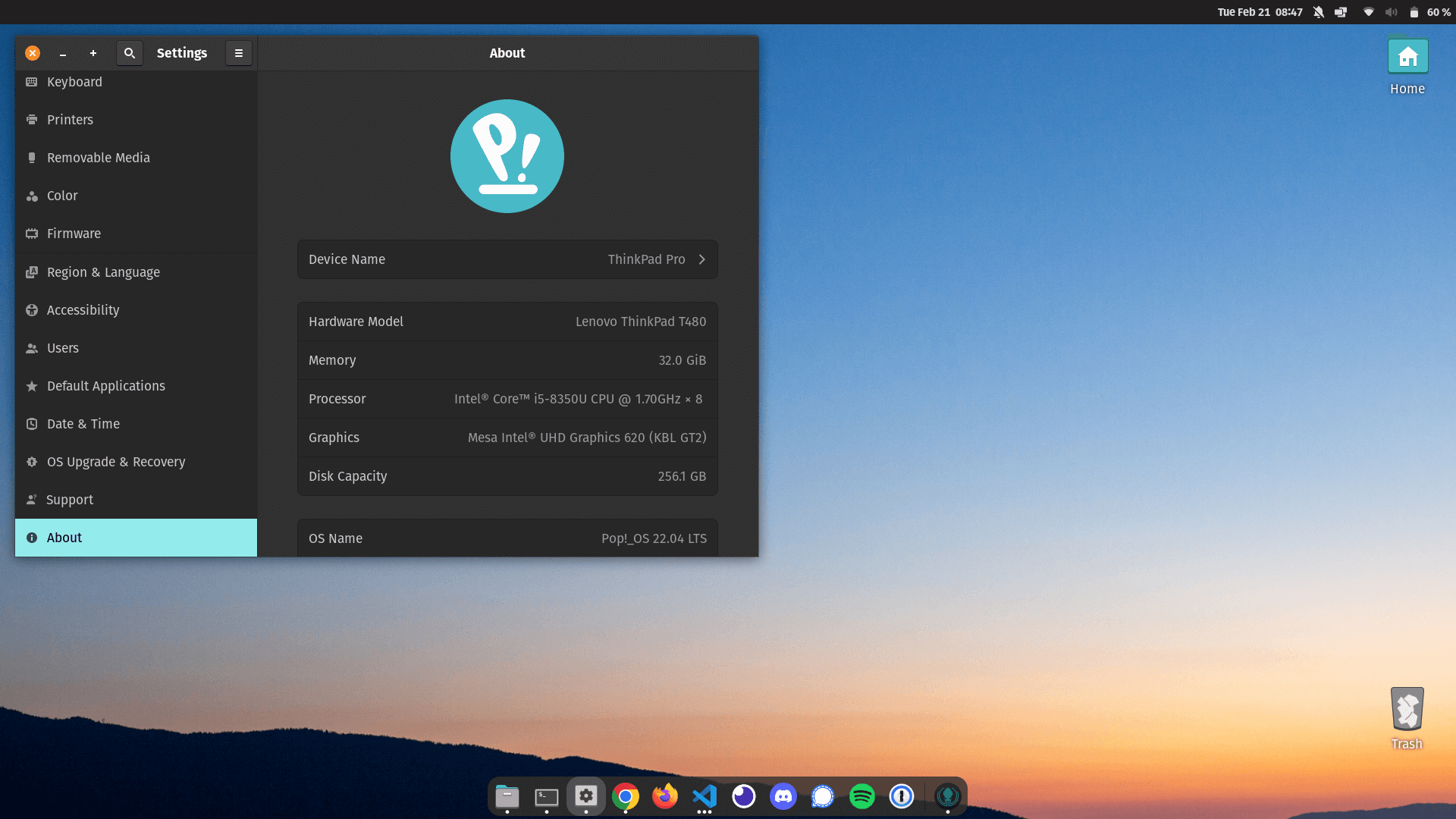 Want one for yourself? I wrote about what you'll need to buy here.
Specs
My Thinkpad T480's specs:
Intel® Core™ i5-8350U CPU @ 1.70GHz × 8
Internal 24wh battery + external 24wh battery (6 hours 15 minutes default battery life on linux, upgradeable to 92wh total)
16 GB RAM (upgradeable to 32GB officially, 64GB unofficially)
1366x768 LCD screen (upgradable to anything from a 1920x1080 screen to a 4k screen, more on that later)
Windows 10 Pro installed w/ OEM key
256GB Samsung NVMe drive
WiFi/Bluetooth module: Intel® Dual Band Wireless-AC 8265 (WiFi 5), again, upgradeable
Ports:

Two USB-C ports
Two USB 3.1 ports, with one Always On
One HDMI 1.4b port
Ethernet port
3.5mm headphone jack
SD card reader
I don't know if you noticed a theme in the specs, but everything in this laptop is upgradeable. Short of the CPU, which is a downer, but this isn't exactly an MNT Reform laptop.
Upgrades
The base model LCD screen that the T480 comes with is incredibly bad.
It hurt to look at, the resolution was too small for anything except using the terminal, and I couldn't use it sitting next to my window unless brightness was turned up to 100% (on a cloudy day!), and even then it wasn't great.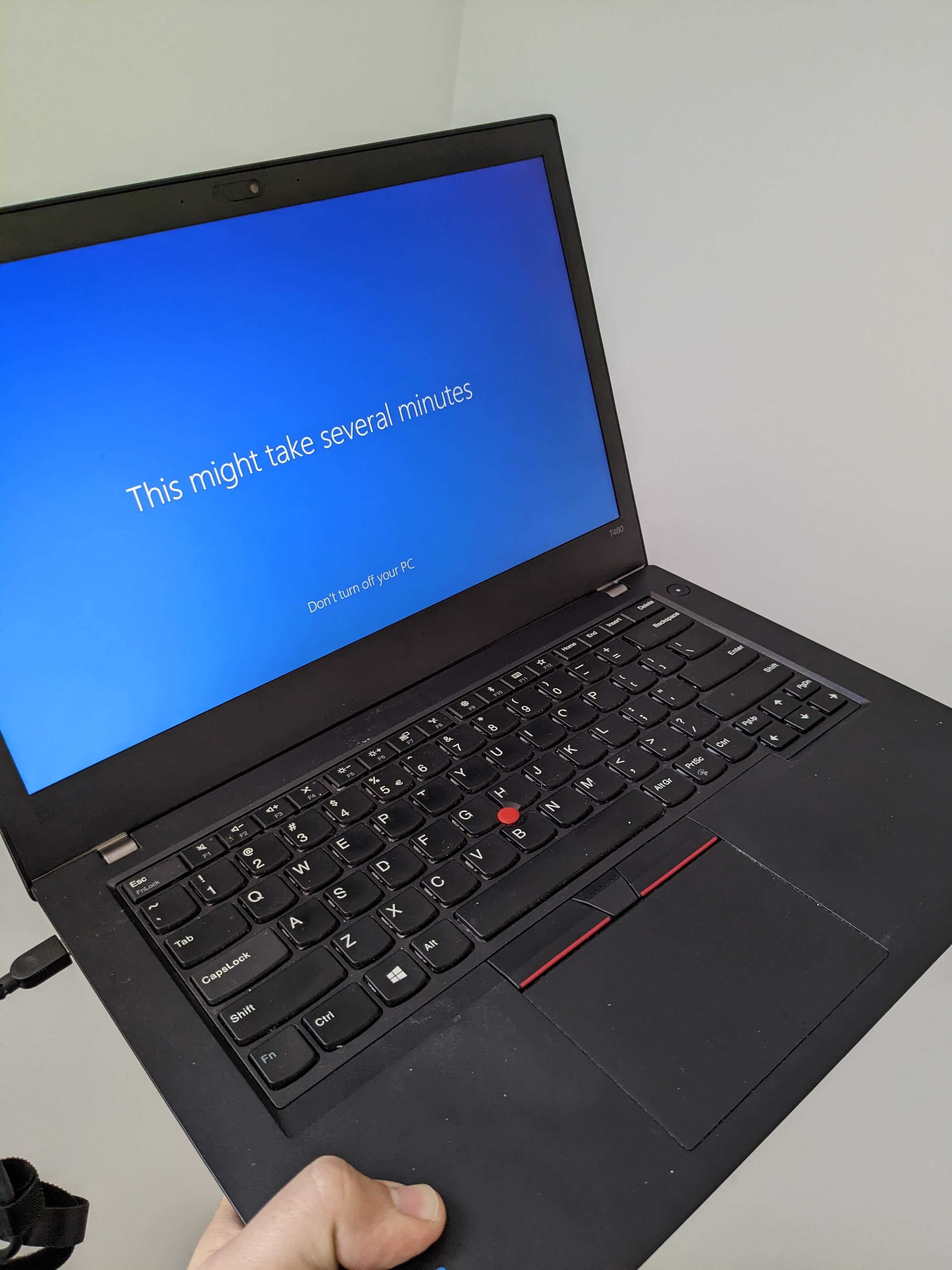 (one quick boot into Windows to check specs before blowing it all away)
So I ordered a replacement 1920x1080 IPS screen (Innolux N140HCE-EN1 Rev.C2), followed the ifixit guide, and had a decent screen after 30 minutes of tinkering.
Unfortunately upgrading the screen cut battery life to about 4 hours 15 minutes (with the screen set to high brightness), so I've ordered a 72wh battery, which should bring that back up to around 8 hours. Note that the battery that came with my T480 is not brand new: as it's a 5 year old enterprise laptop, it had about 80% max charge of its original design. I can also undervolt the CPU to cut power consumption further, but 8 hours is enough for me when traveling.
After a week of testing (using the machine as I normally would), the battery life on the new 1920x1080 screen ended up being around 6 hours, I must have just been slamming the CPU/RAM when I first tested it.
Update: After the brand new 72wh battery came in (for a total system capacity of around 90wh), my battery life is now 14-15 hours.
While upgrading the LCD screen, I noticed I had a spare 16GB RAM stick lying around my home office, so I also upgraded to 32GB RAM. Not that I need that much as a web developer/writer (VS Code, GitKraken and Chrome take up 8GB), but it's nice to have. (It takes two DDR4 2666 MHz SO-DIMM sticks)
The trackpad is good, compared to other Windows laptops, but terrible compared to the MacBook Air. I've ordered a glass trackpad that comes with the Thinkpad X1 Extreme (and is compatible with the T480), so I'll update this article once I've installed that.
Update: The new trackpad from the Thinkpad X1 Extreme is fantastic. Tap-to-click actually registers my clicks, unlike on the default T480 trackpad, and scrolling is extremely precise. Swiping to change workspaces feels just as nice as in macOS (though you'll need to learn new gestures).
I've also ordered an Intel® Wi-Fi 6 AX200 card for WiFi 6 and Bluetooth 5.2.
Update: The Intel AX200 card causes boot issues for Pop!_OS (at least for me), so I just installed the old one back in. I'm not here to dig through forums and run scripts to tell you "it just works!", so I'm keeping the default wifi card that does Just Work.
Update 2: I bought an Intel AX210 card which Just Works with Pop!_OS, supports WiFi 6, Bluetooth 5.2, so I'm using that now.
But... why?
You might be thinking, "wtf, isn't the M1 significantly faster?" - and it is!
I ran Geekbench:
T480 scored 1136 on single core, and 2522 on multi core with default settings
T480 with throttling removed scored 1229 on single core, and 4240 on multi core
M1 scored 2355 on single core, and 8241 on multi core
But is it noticeably 2x slower than the M1? Nope.
It's enough.
Hot reloads of OnlineOrNot's development server take < 1 second, alt-tabbing doesn't lag (it did on my Intel-based MacBook Pro 2019), and booting up is as fast as my MacBook Air. So far, none of my development workflow is slower on the T480.
I installed Pop!_OS 22.04 LTS as I've had quite enough of Microsoft's constant nagging to upgrade to Windows 11, and honestly, I like it?
Everything works out of the box. I haven't had to screw around with anything. The user experience isn't as polished as macOS, but this is the first time I've installed a distro where it Just Works. For what it's worth, I've been trying to get a stable Linux development machine since at least 2010, and I always ended up back on a MacBook.
You can get a Thinkpad T480 for around $200 USD, and upgrades will cost you around $150 total on AliExpress. If any individual part fails, there's a freely available Hardware Maintenance Manual, complete with part numbers that you can look up and order from 3rd party suppliers.
Having experienced Apple's wrath through the 2011 15" MacBook Pro dGPU problem (the motherboard is an overheating time bomb, that will inevitably fail and require replacement - I had two motherboards fail on me after four years, asked for a refund, had to quote Australian Consumer Law at them to get a fair deal), I'm happy to have a way out.
No really, why?
I can't tell the difference in performance or build times as a web developer, my dev server is just as fast on Pop!_OS 22.04 as macOS 13.2
I once spilled an entire can of beer onto a Thinkpad X220. The fix involved a screwdriver, a sponge, a $50 replacement keyboard, and 15 minutes of my time (there are drainage holes on the bottom of Thinkpads).

for contrast, a little bit of dust can break an Apple butterfly keyboard

I'm tired of Apple's ecosystem, Apple ID, not being able to change any individual part of my laptop, being charged $200 USD for 8GB of RAM, being charged $200 for 256 GB of SSD, and so on
I wanted a cheap travel laptop I could replace without blinking an eye at the price. I live in Europe, Thinkpads are the most common enterprise laptops I see while traveling. I might even slap an asset tag sticker on the cover to make it even more inconspicuous.
I felt like it? I'm not telling you what to do here, I'm just telling you my experience.